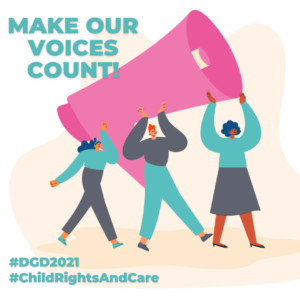 The UN Committee on the Rights of the Child's Day of General Discussion (DGD) 2021 on child rights and alternative care took place on 16th and 17th September. It was a momentous occasion and the first time that the Committee took forward this event entirely online (due to the COVID-19 pandemic). The focus of the day was on lived experience and reflections on how these should inform the advancement of child rights. Nearly 2000 children across all regions took part in a global consultation to inform the DGD (the report is accessible here).  
There was recognition of how COVID-19 has exacerbated the root causes of child-family separation due to reduced resources and services, loss of caregivers and isolation from the community and several calls for a child rights approach to quality care. The Committee called for the universal ratification of the third Optional Protocol on a communications procedure (OPIC) as a concrete and effective mechanism to react and seek redress and as a strong tool to ensure the respect of all child rights.  
The consensus throughout the sessions was that alternative care should be the last resort and carefully monitored, family separation be avoided, family integration is prioritized, and that the State has the responsibility to protect, be proactive and strengthen the ability of families to provide care. In addition, children must be listened to, and their views taken into account. The sessions provided three main recommendations for unnecessary separation: the ability to have access to services, timely support and quick, targeted intervention to families in crucial moments and collaboration of networks.  
Although alternative care should be "alternative," it is important that best practices are set in place to protect and care for the child. For instance, some speakers mentioned how crucial it is for children to maintain their identity in alternative care. A speaker mentioned that it is important for the child to be in a safe environment to express their sexual orientation and gender identity, for which children in the LGTBQ+ community are more likely to be vulnerable due to being afraid to express their identity and face discrimination. It is also important that alternative care services have high quality care that can provide for children with mental and physical disabilities.  
The Children's and Young Person's Advisory Team's for the DGD were incredibly active in the preparations and planning for this event and took part throughout the different plenaries and sessions. They will be integral to the follow-up of the DGD, and their feedback will help to advance and improve children's participation in future DGDs and more broadly at the UN level.  
Find out more and access all relevant documents on the OHCHR's DGD page here and Child Rights Connect's dedicated DGD page here.