GROUP TALK 
We were happy to see many of our members in Geneva during the Child Rights Connect General Assembly in March, and to welcome some new organisations to our network.
This issue of GroupTalk comes out at an exciting time, as the 3rd optional protocol to the CRC (OP3 CRC) enters into force on Monday, 14 April.  Read more about how the Ratify OP3 CRC International Coalition is commemorating this event.
Don't miss the member news! Thank you very much to all of our members who shared updates and events.



COMMITEE ON THE RIGHTS OF THE CHILD


Upcoming deadline: nominations for the next Committee Elections
This year the elections for members of the Committee on the Rights of the Child have been moved forward by 6 months. Next elections for the Committee on the Rights of the Child will be held during the Fifteenth Meeting of States Parties to the Convention on the Rights of the Child (New York, 25 June 2014).  Deadline to nominate candidates is 25 APRIL 2014. Visit our page on how NGOs can be involved and check the OHCHR website to stay informed. Please contact Lisa Myers for further information on our work in this area.
Day of General Discussion on "Social media and children's rights"
The Committee's next Day of General Discussion (DGD), which will be held on 12 September 2014. DGDs are public meetings on a specific theme and NGOs, UN agencies, government representatives, etc. can all participate. This year's theme "Social media and children's rights". Read MoreClose
By understanding how children are using forms of Internet and social media, States will be able to better ensure that children can access appropriate information and use evolving technology in a way that is not harmful to their development and represents a positive and enriching experience.
The Committee is likely to publish the concept note of the Day as well as guidelines for written submissions in the coming weeks. NGOs with experience relating to social media and child rights are encouraged to 
contact Ilaria Paolazzi
 to see how you can be involved. The Committee relies on civil society as a source of information for DGDs. Find out more about DGDs in general and how civil society can participate on our
website
and 
factsheet
. 
CRC 25th anniversary
To celebrate the 25th anniversary of the CRC Convention, the Committee on the Rights of the Child is planning to hold an event, which will focus on increasing awareness of children and the public in general of the Convention and its optional protocols, as well as hearing children's views on the human rights challenges facing them and their hopes and concerns for the future. Read MoreClose
The event is planned to take place on 24 September 2014. The event would comprise a series of Google Hangout dialogues over one day with children from selected States in various regions of the world. The Google Hangout dialogues will be aired live on the internet and posted subsequently on YouTube. The event and the subsequent video will be shared on social media platforms, such as Facebook, Twitter and others, that are popular among children.
Please 
contact Ilaria Paolazzi
 for more information. 
General Comment
At the end of the 65th session/67th pre-session, the Committee on the Rights of the Child decided to start working on two new General comments, one on "Public spending to realize children's rights" and another one on "Adolescents". Please, contact Ilaria Paolazzi for more information or if you have particular expertise in these areas, which you would like to bring to the attention of the Committee. To know more about what is a General comment and how you can contribute, please see our website.
New guide to the CRC reporting cycle for NGOs and NHRIs
Child Rights Connect is pleased to share our updated guide: The Reporting Cycle of the Committee on the Rights of the Child: a guide for NGOs and NHRIs.  The guide will be available shortly in French and Spanish.
IMPORTANT:The Committee has adopted a tentative schedule for the review of all State reports received to date. Refer to the Committee's website to see when your State will be reviewed both in the pre-session and session and the deadline for submitting NGO reports.
Upcoming Sessions and Pre-Sessions
The upcoming 66th session of the Committee on the Rights of the Child will be in double chambers. The session takes place from 26 May to 13 June in Geneva.  The Committee will review State reports from: India (CRC, OPAC, OPSC), Indonesia (CRC), Jordan (CRC, OPAC, OPSC), Kyrgyzstan (CRC, Integr. OPAC&OPSC), St. Lucia (CRC), United Kingdom (OPSC)
All sessions are webcast live by Child Rights Connect and archived.
Read MoreClose
Submissions by non-governmental actors for the 
68th pre-session
, to be held in June 2014, were due on 1 March 2014. .The Committee will review the reports with non-State actors for: Cambodia (OPAC,OPSC), Colombia (CRC), Cuba (OPSC, OPAC), Dominican Republic (CRC), Gambia (CRC), Iraq (OPSC, OPAC), Jamaica (CRC), Mauritius (CRC), Sweden (CRC), Switzerland (CRC, OPSC), Turkmenistan (CRC, OPSC, OPAC), United Republic of Tanzania (CRC), Uruguay (CRC, OPSC, OPAC).
The deadline for requesting accreditation from OHCHR for the 68th Session is 30 December 2013. Visit
here
for more information.
NGOs and coalitions working in States being reviewed are encouraged to submit alternative reports for the Committee to consider
along with the State reports. If you would like to know more about the alternative reporting process, 
visit our website
 or contact 
Ilaria Paolazzi
. Deadlines for alternative reports are: 
1 November
 (for the February pre-sessional working group) / 
1 March
 (for the June pre-sessional working group) / 
1 July
 (for the September/October pre-sessional working group).
For questions about the Committee's reporting process, please email 
Ilaria Paolazzi
Back to in this Issue
3RD OPTIONAL PROTOCOL
The third optional protocol enters into force on 14 April!
On 14 April, the third optional protocol to the CRC (OP3 CRC) will enter into force and children will now be able to bring cases about violations of child rights to the UN Committee on the Rights of the Child. Before the adoption of OP3 CRC, the Convention on the Rights of the Child was the only core international human rights treaty that did not have a working communications procedure.Read MoreClose
Now, the UN will be better equipped to address future violations of children's rights, and more pressure will be put on countries to ensure children's rights are respected. More information and resources are available in this
press release
.
Costa Rica was the 10th State to ratify OP3 CRC in January 2014. The  nine other States that have ratified are: Albania, Bolivia, Gabon, Germany, Montenegro, Portugal, Slovakia, Spain and Thailand. 
New York side event
A panel featuring representatives from States and the Ratify OP3 CRC Coalition will be held at the UN headquarters in New York to celebrate this key moment for access to justice by children. Panellists will discuss the importance of the Optional Protocol as well as call for broader ratification. Details can be found here.
The panel will be broadcasted live on Monday 14 April from 1.15 pm to 2.30 pm New York time (GMT-5).
A new look for the Ratify OP3 CRC International Coalition website

Stay up to date on the Ratify OP3 CRC Coalition's new website: www.ratifyop3crc.org.  The new site will be launched on 14 April.


Join us today. Together with the International Coalition, Child Rights Connect is advocating for ratification in Geneva, New York and at regional and national levels. Read MoreClose
Back to in this Issue
HUMAN RIGHTS COUNCIL
2015 Annual Day on the Rights of the Child
Next year's Annual Day on the Rights of the Child during the March session of the Human Rights Council (HRC) is entitled: "towards better investment in the rights of the child". To coordinate and strengthen participation from Child Rights Connect members, a working group will be set up.  For more information and to find out how to be involved, contact Anita Goh.
New panel on Violence against Children
At the upcoming September session of the HRC, there will be a panel discussion on ways and means of accelerating global efforts to end violence against children, with a particular focus on how to better prevent violence and protect children as a global priority and cross-cutting concern, and to share best practices and lessons learned in this regard. Child Rights Connect will share information on how NGOs can be involved over the coming months, as soon as it is available.
Upcoming expert meeting on military tribunals
During the last session, the HRC decided to hold an expert meeting on administration of justice through military tribunals and the role of the integral judicial system in combating human rights violations. The session and date has yet to be confirmed, but the the meeting should take place before next March and offer opportunities for NGO involvement.  Child Rights Connect will share information on how NGOs can be involved over the coming months, as soon as it is available.
Key highlights from the HRC session, March 2013
The Child Rights Connect secretariat continued our work in monitoring the HRC session, especially thematic discussions. Key themes discussed during the March session include "protection of the family" and "civil society space". A brief summary of discussions and outcomes can be found here.
We're looking for feedback! Please let us know if this HRC summary is helpful for your work and if you have any suggestions to improve it.  Contact Anita Goh.

Back to in this Issue
CHILD RIGHTS CONNECT WORKING GROUPS
Contact and Join our Thematic Working Groups
Working Groups are an effective way for Child Rights Connect members to cooperate on common priorities.
For more information on being involved with a specific working group, please contact the convenors directly:
GENERAL ASSEMBLY NEWS
Child Rights Connect held its General Assembly in March 2014. The new five-year strategic plan was adopted, covering the period from 2015 to 2019. The Annual report on the work of the secretariat was also presented.
Child Rights Connect Executive Committee Elections
Anne-Sophie Lois from Plan International was elected unanimously President of the Executive Committee. Ileana Bello from Defence for Children International and Conchi Ballesteros from Plataforma de Infancia were re-elected for a new term on the Executive Committee.
Child Rights Connect welcomed four new members to our Executive Committee: Delia Pop from Hope and Homes for Children, Elinor Milne from APPROACH, Ulrika Cilliers from Save the Children International and Sabine Saliba from CRIN.
Annabel Trapp from War Child Holland, Eylah Kadjar from Terre des Hommes International Federation and Jorge Freyre from RED-LAMYC remain members of the Executive Committee.
Child Rights Connect new member organisations
Child Rights Connect warmly welcomed three new member organisations admitted by the General Assembly: Franciscans International, Truth and Reconciliation for the Adoption Community of Korea (TRACK) and INGO Ponimanie.

Back to in this Issue
MEMBER SPOTLIGHT
New section!  The Child Rights Connect secretariat would like to highlight work of members that encourage cooperation within the network and best practices. If you would like to share information on your organisation's work for the spotlight, please contact Laura Collier.
DCI — Global Study on Children Deprived of Liberty
Child Rights Connect member Defence for Children International is leading a civil society call to the UN General Assembly for a Global Study on Children Deprived of Liberty.  The study would address the great lack of data, research and verified information on the situation of children deprived of liberty in all forms. It study would build upon the UN studies on Impact of Armed Conflict on Children (1996) and on Violence against Children (2006). Read MoreClose
There are already more than 25 signatories to the call, including many Child Rights Connect members.  DCI has been actively working with States, including Austria, Ethiopia, Uruguay and Qatar, who co-sponsored the official launch event of the call for the study during the March HRC session.
Lobbying and expert research activities will continue this spring and summer in New York and Geneva.  To find out how your organisation can sign on to the call and take advantage of further opportunities for collaboration around the Global Study on Children Deprived of Liberty, contact
Anna Tomasi
. More information is available
here
.
Back to in this Issue
SECRETARIAT STAFF UPDATE

These past months have been a transition for the Child Rights Connect secretariat. Roisin Fegan, who was with us for more than three years as the Child Rights Officer and then as the Interim Director, had her last day with Child Rights Connect on 31 March. We would like to thank Roisin for her exceptional work and wish her the best in her future endeavors. 
We welcome back Lisa Myers, our director, who has returned from her maternity leave.
We also wish to welcome our new Spring interns, Karolina Saviova and Dorian Hall. Karolina and Dorian both come to us with experience working at OHCHR. They will be working with the secretariat until June.

Back to in this Issue
NEWS FROM CHILD RIGHTS CONNECT MEMBERS
As always, we encourage you to share your news with our network.  To have your organisation´s latest projects, publications, best practices or events included on our website, please send your article or update to Laura  Collier.
Elizabeth Glaser Pediatric AIDS Foundation (EGPAF)
Parliamentarians urged to help increase children's access to HIV treatment. On 17 March 2014, the Elizabeth Glaser Pediatric AIDS Foundation (EGPAF) stressed the importance of ensuring children's access to HIV treatment at a gathering of parliamentarians in Geneva.  Read MoreClose
At the event, which took place during the Inter-Parliamentary Union's Annual Assembly, the organization launched a short
video
that highlights the problems facing children living with HIV, along with a
brief
for parliamentarians on how they can take action on the issue within their own countries.
More than 500 children die every day due to HIV infection. Without treatment, 80 percent die before their fifth birthday. Despite this, children are accessing HIV treatment at only about half the rate of adults – 34 percent of children needing HIV medicines receive them, while 64 percent of adults do.
Philip O'Brien, Executive Vice-President of EGPAF, said, "The need to scale up access to HIV treatment is not only clear – it is an emergency. And the role of parliamentarians in helping us to achieve this is critical. Without political support and action, we will not be able to achieve the gains that are so desperately needed to keep these children alive and help them to flourish."
Ms. Thabitha Khumalo, MP from Zimbabwe, spoke movingly to fellow parliamentarians of her own experiences in witnessing the toll that HIV is taking on children in Africa, and the difficulties in ensuring that they have access to medicines that are child-friendly and palatable. "We risk sentencing a generation of children to death if we do not do more to ensure their right to the medications that will help keep them alive and healthy," she said. "These children are the same ones who could one day be sitting in our seats in parliament – but only if we give them a chance."
Parliamentarians expressed appreciation for having this issue brought to their attention, and pledged to follow up upon their return home. Some said that they were not aware of the disparity in access to treatment by children versus adults, and expressed dismay. However, as one parliamentarian said, "I am taking this as a challenge to go back home and sit with the AIDS committee in my parliament to see what we can do to take better care of our children living with HIV."
Eurochild
Eurochild Annual Conference to focus on better public spending for children
. The European Commission Recommendation
'Investing in Children: Breaking the Cycle of Disadvantage'
sends a clear message that, even in times of budget consolidation,
governments must invest
in services and policies that support children, enabling them to realise their full potential.
Read More
This year marks the
25th Anniversary
of the UN Convention on the Rights of the Child and, in spite of overall achievements regarding children's rights, many of them still have their rights violated on a daily basis.
Eurochild's Annual Conference,
"Better Public Spending for Better Outcomes for Children & Families"
, will take place in
Bucharest from 26 to 28 November
and will bring together key stakeholders to discuss how to achieve better public spending putting the child's interest at the centre. Participants will include members from different European governments, civil society, business and private sector representatives, and philanthropic and inter-governmental organisations.
The conference will have a number of
cross-cutting themes
: social return on investment, the relationship between the public and private sector, transparency and accountability of public spending, and evaluation methodologies.
In addition to gaining a better understanding of
how to monitor the effectiveness and impact
of particular interventions to support children and families, the conference will also address questions around
best use of the resources available
, taking a more global picture of public expenditure.
Given the particular expertise and interest of Eurochild members, public expenditure will be explored in more detail in three thematic areas: early childhood education and care, family and parenting support, and children at risk or in care.
A
background paper
will be prepared to set the framework for the discussions during the conference, highlighting cross-cutting issues and thematic context.
First Nations Child and Family Caring Society
The Dreams of First Nations Young People Matter Too. First Nations children want the same opportunities to grow up safely at home, be healthy, achieve their dreams, celebrate their languages and culture and be proud of who they are. We can all stand with First Nations children so they have the same chances as all other children in Canada. Read MoreClose
Our Dreams Matter Too (ODMT) is a walk and letter writing event on June 11 supporting culturally based equity for First Nations children. People and organizations across Canada have participated in ODMT by planning walks across the country to deliver letters to mailboxes in their communities. Register your walk and learn more at:
http://www.fncaringsociety.com/our-dreams-matter-too
.
In 2007, the First Nations Child and Family Caring Society and the Assembly of First Nations filed a human rights complaint against the Government of Canada (Aboriginal Affairs and Northern Development Canada). The complaint alleges that AANDC provides less child welfare funding on reserves resulting in an overrepresentation of First Nations children in the care of child welfare. The case is being heard at the Canadian Human Rights Tribunal and continues with dates in May and closing arguments July 7-11, 2014. Be a witness to this historic case and watch in person or watch it on APTN (
http://aptn.ca/news/tag/kids-in-care/
). For more information on the case, visit
www.fnwitness.ca
or contact the Caring Society at
info@fncaringsociety.com
.
IFCO
2014 European Conference has been re-opened. Waterford City in Ireland has become an alternative location for the conference, following cancellation of the event in Kyiv, Ukraine – previously announced as IFCO 2014 hosts – due to current political and social crisis there. Read MoreClose
  Hosted in Waterford Institute of Technology, the conference will take place on 26-29 August 2014.The theme of "Ensuring the Rights of the Child, and Family-based Services" chosen for the IFCO 2014 European Conference invites workshop ideas, plenary topics and attendees who envision foster care, and indeed, all alternative care as the holistic system that IFCO promotes. In the IFCO tradition we run an 
adult
 and 
youth programmes
 in parallel with opportunities for cross-over interactions. Conference organisers would like to invite all stakeholders including foster parents, foster families, children in foster care, care leavers, birth families, social workers, professionals, academics, policy makers and all who are invested in family-based care, to submit papers for 30- and 45-minutes plenary presentations and 90-minute workshop sessions for both the adult and the youth programmes. Papers must be written in English as the working conference language. On the basis of the papers received, a stringent review will be undertaken by the Organising Committee to select papers for the conference.  The selection criteria include adequacy of the information allowing a sound review, relevance to the themes/topics and depth of information content.

Important dates
·         Outline paper submission closes: April 30, 2014
·         Authors notified of acceptance: May 12, 2014
·         Provisional Programme: May 20, 2014 

INGO "Ponimanie"
"Safe Belarus and CIS Region for Children" Conference Takes Place in Minsk. Professionals from Belarus and abroad will meet April 23-24 in Minsk in the framework of the Fifth International Conference "Safe Belarus and CIS Region for Children", organized by the INGO "Ponimanie".  Read MoreClose
The key advantage of this conference is its 
content-driven character
 –   a lot of practice-oriented events are going to take place. Three sections of the Training Institute will work on the first day of the Conference, April 23:
Managing the work of Child Helplines: CIS Region and international experience
Child-friendly investigation and interviews: CIS Region and international experience
Methods of treatment and rehabilitation of children suffered from child abuse and neglect: CIS Region and international experience
The organizers of the Conference will particularly focus on the United Child Protection Model that is developing in Belarus. Only in 2013 the United Model provided direct service delivery in 389 cases of child sexual abuse, and over 2,200 cases of criminal physical abuse towards children.
The United Model of Child Protection is a comprehensive technological chain aiming to help abused children and their families. It consists of Child Helpline Belarus 8-801-100-1611 – the entering point of information into the system, child-friendly interviewing rooms across all 7 regions of Belarus, Child Protection Medical Center (Barnahus of A-type), Center for Missing and exploited children.

Please go to the 
website
 to find more information on the Conference.
International Catholic Child Bureau (ICCB / BICE)
BICE recently released two publications. Read MoreClose
BICE attended the following
conferences
on Resilience and the Rights of the Child. 
Read More
–          Workshop organised by Boris Cyrulnik on "Resilience and Spirituality", Paris (France).
–          Conference organised by ADDIMA in Zaragoza on « Resilience and Humour. », Zaragoza (Spain).
–          Workshop organised by ADDIMA in Zaragoza on "Humour. Sense and Sensitivity", Zaragoza (Spain).

The
events
below have been organised by BICE. 
Read More
Moreover, BICE begins its Child Sexual Program (2014-2017)
in Africa, Asia, Europe and Community of Independent States and Latin America.
Internet Watch Foundation
The fight against online child sexual abuse content – IWF 2013 Annual Report — The Internet Watch Foundation (IWF) is the UK hotline for reporting online child sexual abuse content. On 7 April 2014, the IWF released its 2013 Annual Report which shows an increase of 31% of reports processed by the hotline in 2013 compared to 2012.  Read MoreClose
 In total, the IWF processed 
51,186
reports in 2013 of which 
13,343
 were assessed as depicting child sexual abuse, including rape and sexual torture. Most of the images or videos processed by the IWF 
(81%
) included victims who appeared under the age of 10 and a number of reports depicted victims aged 2 or under 
(3%)
. Most of the content encountered by the IWF was hosted in North America (
54%
), followed by Europe, including Russia (
43%
). Less than 
1%
 of the content reported to the IWF was actually hosted in the UK.
The IWF works with partners around the globe to improve the fight against online child sexual abuse content. Among others, the IWF is part of the Steering Group of the Commonwealth Cybercrime Initiative; the ITU's Child Online Protection Initiative; the IGF's Dynamic Coalition on Child Online Protection; the European Financial Coalition; and Child Rights Connect. In addition, the IWF developed a Countrywide Assessment Template for combatting online child sexual abuse content which was adopted by the ITU, as well as a practical back-office solution (
OCSARP – Online Child Sexual Abuse Reporting Portal
) to help countries without a hotline.
For more information about the IWF or to read the full 2013 Annual Report, please visit our
website
.

Plan International

Plan has been gearing up for the first ever Human Rights Council panel discussion on child, early and forced marriage at the June session of the Council in Geneva.
On 3 March, during the 25th session of the Human Rights Council, the UN Population Fund (UNFPA) in collaboration with Plan and others co-organised a 
high-level panel debate
 on child marriage, set against the backdrop of the powerful Too Young to Wed exhibition.

Read More

  On a panel debate alongside heads of UN agencies and ministers, Plan's Chair Ellen Løj shared Plan's experience of working with communities to eradicate this practice.

Attended by over 250 people, the debate helped raise the issue of child marriage at the UN and has hopefully sparked an increased interest for the June panel discussion.

On Thursday 10

th

 of April, Plan together with the 

Youth Advocacy Group 

launched a new 

advocacy toolkit

 for youth advocates.  

The Youth Advocacy Group is part of the UN Secretary-General's Global Initiative on Education, working towards making education accessible to all children.

Read More

The toolkit empowers young people to advocate for their own rights and will serve as a guide to get involved with advocacy for education and other initiatives.

We encourage you to use this toolkit and disseminate it to ensure that more young people have the tools necessary to take an active role in shaping their future.

The toolkit is available here.
Terre des Hommes International Federation
WORLD CONGRESS ON JUVENILE JUSTICE Switzerland and the Terre des hommes Foundation are pleased to announce the joint organisation of the WORLD CONGRESS ON JUVENILE JUSTICE at the International Conference Center of Geneva (26-30  January 2015). Read MoreClose
Despite progress achieved over the last decades, the improvement of the juvenile justice system remains a critical element for the respect of the best interest of children in conflict with the law as well as the interest of the society as a whole. Despite the vast diversity of judicial systems, similar challenges arise such as detention conditions for children in conflict with the law, the respect of their rights, the efficiency of non-custodial measures, the advantages of restorative juvenile justice, the reform of the juridical system and the prevention of youth offending.
The Congress aims at promoting the implementation of these norms and standards through the exchange of experiences, innovations and best practices.
– Governments are invited to present achievements in juvenile justice (legislative, pilot project, innovations, lessons learned, etc.), to share challenges, to discuss implementation of measures as well as articulate needs and/or proposals for regional and international cooperation.
– Juvenile justice professionals (judges, magistrates, prosecutors, academics, penitentiary administration, social services, police, lawyers, etc.) are invited to expose their lessons learnt and their proposals;
– International organisations, United Nations Agencies, non-governmental organisations and other stakeholders in the field of Juvenile justice, in order to strengthen their coordination capacities.
CONTACTS:
Permanent Mission of Switzerland to the UN in Geneva : mission-geneve-oi@eda.admin.ch
Terre des hommes Foundation : JJ2015@tdh.ch
World Congress website in
English
War Child Holland
War Child Holland: Syria Child Rights Situation Analysis, January 2014. In 2013, War Child Holland conducted a participatory Child Rights Situation Analysis (CRSA) with 400 boys and girls living in different communities in Syria to find out about matters of greatest concern to them. Read MoreClose
 War Child Holland regularly conducts a CRSA in the contexts where it works to ensure that the views of children are taken into account in the design of programme interventions and to raise awareness about the situation for children, with humanitarian agencies, donors and other key international stakeholders.
"Nowhere is safe. Even the places where we feel happy are not safe." Child, Rural Damascus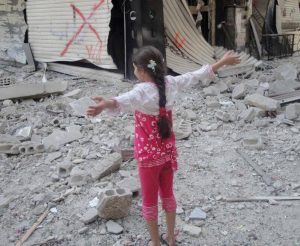 The most important issues that children in Syria identified related to violations of their rights to protection, education, healthcare, nutrition and play. Fear was commonly reported by children as a factor restricting the fulfilment of their rights and their ability to enjoy their childhood. The children also voiced their perception of widespread discrimination in access to resources and services in Syria.
The
full report
recommends that programmes in Syria better address the needs of children by ensuring the creation of safe places for them to gather and to access support services on a fair and equal basis. It also
recommends that partnerships and cooperation with existing community based groups and structures is prioritized, and that children from the host and displaced community, as well as Syrian and refugee children are integrated and involved.
Back to in this Issue