Member News and Events
Each month our members share their latest news, achievements, events and plans. Check in regularly to stay up to date about our members and  what we're all working on. News is posted under the month it is received and then alphabetically.
November 2014 News
Women's World Summit Foundation
The WWSF Children-Youth Section is pleased to launch the 2014 Call to Action & Prevention Kit (4th edition) for the "19 Days of Activism for prevention of violence against children and youth 1-19 November", a campaign ending on World Day – 19 November. The Kit includes a list of 19 abuse themes, which need urgent prevention measures, as well as information and ideas for action. The 2014 main theme is about "Addiction and Substance Abuse".Read MoreClose
For those who are new to 19 Days of Activism, it is an international empowerment campaign that began in 2011 as an extension of the World Day for prevention of child abuse – 19 November, a Day, which many organizations have continued to celebrate annually for the past 13 years.  The 19 Days campaign is about creating widespread multi-sectoral interest and increased action for the creation of a culture for prevention. It serves as a platform to mobilize and educate the public at large, institutions, schools, NGOs, grassroots groups and faith-based organizations, as well as the media and government bodies about the pervasiveness of abuse and violence against children and youth in all settings and organize for action to end such practices.
More information can be found in 
this communique
 and on 
the WWSF website
.
September 2014 News
INGO Ponimanie
International NGO Ponimanie (Belarus) is a co-recipient of the 2014 ISPCAN Multidisciplinary Team Award

INGO Ponimanie has been selected as a co-recipient of the 2014 ISPCAN Multidisciplinary Team Award by the International Society for the Prevention of Child Abuse and Neglect (ISPCAN). 
The Multidisciplinary Team Award recognizes a multidisciplinary team that has made substantial progress in the treatment or prevention of child abuse and neglect in its local community.
The award will be presented at the XX ISPCAN International Congress in Nagoya, Japan, that will be held 14-17 September 2014. 
Read More
Jenny A. Gray President of the ISPCAN and Irene Intebi, ISPCAN Awards Committee Chair, addressed the INGO "Ponimanie" with a letter of congratulations where they admitted that the award is truly deserved by the organization.
The keystone of Child Protection System that Ponimanie is striving to build in Belarus is the United Child Protection Model. The Model unites all the elements of child protection system into the one logical chain – from Prevention to Rehabilitation, with emphasis on Treatment/Clinical Component of Intervention. Based on CAC++ (Children's Advocacy Center plus several important components) approach, United Child Protection Model fits for countries of low and middle income per capita as it has high cost efficiency due to reduced indirect costs with keeping excellent quality of support.
There remains a lot to be done in the field of child protection in order that children feel absolutely secured and have each and every possibility for full and harmonious development.

August 2014 News
International Institute for Child Rights and Development
Child Protection in Development (CPID) Course: Creative Approaches to Engaging Young People in Social Change
August 23-26, 2014 9 am – 4:30 pm, Royal Roads University in Victoria, BC, Canada.
The International Institute for Child Rights and Development (IICRD) is offering a four day training course, offering tangible tools and approaches for Aboriginal youth leaders and practitioners working with Aboriginal youth, to engage with young people and community members to create social change.
Registration is now open until July 4th, 2014, by email: info@iicrd.org
For more information, please visit CPID: http://www.cpid.iicrd.org/events/creative-approaches-engaging-young-people-social-change-0

July 2014 News
CRIN
Launch of new campaign on children's right to information: "Protect children, end censorship"
A disturbing trend among states to limit children's access to information is gaining force, with sex education, sexuality and drug use the main targets. In a recently published paper, "Access Denied: Protect children's rights unblock access to information", CRIN explains that much of the information being denied to children in fact equips them with the knowledge to protect themselves against risk, learn to think critically and make informed choices. Read MoreClose
CRIN's policy paper launches a new campaign Protect Children, End Censorship with which we aim to draw attention to undue restrictions on children's access to information and call for stronger standards and leadership on the issue.
The campaign recognises that children should indeed be protected but disproportionate restrictions on children's access to information fuel the notion that children are blank canvases to be painted by adults, rather than human beings with rights, views and feelings of their own, and fail to support them to flourish.
CRIN is calling for stronger international standards, guidelines and model laws on children's access to information by the United Nations and regional human rights mechanisms. CRIN is also urging national governments to review and revise laws and policies that block
children's access to information. Any restrictions on children's access to information should be transparent and in line with all children's rights as set out in the UN Convention on the Rights of the Child.
Further information:
● 
CRIN's campaign: Protect Children, End Censorship
● 
Download the press release
 (in both English and Russian)
● Policy paper: 
Access Denied: Protect rights unblock
children's access to information
● Twitter hashtag: #1984children
If you have any comments on the policy paper or would like to send any contribution, please email us at info@crin.org.
Defensa de Niñas y Niños Internacional – Costa Rica
DNI Costa Rica would like to share its calendar with events happening until the end of the year including celebrations of the 20th anniversary of DNI in central america, the 25th anniversary of the CRC and the 35th anniversary of DCI International.
Open the calendar of events.

Defence for Children International
Defense for Children International-Palestine mourns the death of a staff member, Hashem Khader Abu Maria, 45, killed today by Israeli forces while peacefully participating in a solidarity march with Gaza.Read MoreClose
Israeli forces shot Hashem in the chest with live ammunition as he stood still at the demonstration in solidarity with Palestinians in Gaza after Friday prayers in the West Bank town of Beit Ummar.

See the press release here.
June 2014 News
Plan International
Universal Birth Registration
Plan International has launched several important new research reports on birth registration as a part of civil registration and vital statistics (CRVS). In these materials, Plan brings together its experience on birth registration in the field with broader research on the topic, in order to present evidence-based recommendations for how to improve CRVS systems worldwide and ensure universal birth registration for every child. Read MoreClose
The first report, based on research conducted in India, Kenya, Sierra Leone and Vietnam, shows the complex interrelationship between children's rights and birth registration.
The second report focuses specifically on birth registration in emergencies. In such circumstances, children are especially vulnerable to abuse, and a functional CRVS system, including birth registration can help build a protective environment for children.
Child Marriage
Plan International
 is continuing its efforts, at all levels of its activities, to eliminate child marriage in a generation. In Geneva, Plan participated in the first ever 
high-level panel discussion on child, early and forced marriage
 during the 26
th
 session of the Human Rights Council. 
Read More
At the panel, Dr Ayman Sadek from Plan Egypt was invited as a panellist to share Plan's experience working with communities and traditional leaders to end child marriage. During the discussion, Plan UN Liaison and Advocacy Office in Geneva also delivered an oral statement urging the Council to continue to work on this severe human rights violation.
In Africa, youth delegates from all over the continent staged a takeover of the African Union, demanding Governments to increase educational opportunities for girls. The takeover featured a film called "Girls Interrupted", which emphasizes the negative effects of child marriage as a barrier to education for girls.
May 2014 News
Child Soldiers International
Chad: Un enfant ne doit pas être un soldat!
In cooperation with UNICEF Chad, Child Soldiers International has created a booklet illustrated by a Chadian artist, which outlines key concepts relating to children's rights and child recruitment. It focuses on international laws applicable in Chad as well as Chadian national and military policies prohibiting the military recruitment and use of children in armed conflict. Read MoreClose
This booklet serves as a resource for promoting awareness of existing laws and policies among the armed and security forces, administrative and judicial authorities and other national actors with a view to preventing child recruitment in Chad. The booklet was disseminated through a workshop organised by Child Soldiers International and UNICEF in Chad in May 2014. An interactive version of the booklet (in French) can be explored through this 
link
 and hard copies are also available in French and Chadian Arabic.
India: Urgently implement CRC recommendations
India must take urgent steps to implement the recommendations of the UN Committee on the Rights of the Child (CRC) to prevent and end child recruitment, says Child Soldiers International. The CRC's recent assessment of India's implementation of the Optional Protocol to the Convention on the Rights of the Child on the involvement of children in armed conflict (OPAC) identifies serious gaps in legislative and policy measures to address child recruitment and use in India.
Read More
The CRC expressed deep concern at the recruitment of children by various non-State armed groups and their use in hostilities in Northeast India-areas where Maoist armed groups (Naxalites) are operating-and in Jammu and Kashmir. It expressed concern at the lack of legislation to prohibit and criminalise the recruitment and use of children under 18 years and on the absence of monitoring mechanisms. The CRC further noted the lack of effective mechanisms to verify the age of incoming recruits to the armed forces, police forces and other paramilitary forces, noting that the problem is exacerbated by the low rate of birth registration in India. It further recommended that India raises the minimum age of recruitment into armed forces to 18 years.
Research conducted by Child Soldiers International in August 2013, and submitted to the CRC in the form of a 
alternative report
, reflects similar concerns.
Child Soldiers International urges the Indian authorities to comply with their legally binding obligations under OPAC and promptly implement the CRC's recommendations. Further information on these recommendations can be found 
here
.
ECPAT
ECPAT celebrates 24 years fighting against modern slavery 
ECPAT was born on 1 May 1990, when a few good people came together with a common concern for children caught in modern slavery. It was clear that there was a growing trend in the use of children for sex tourism – not a topic that many wanted to acknowledge, much less address, at that time. Over the next few years a committed few worked strenuously to break through the culture of silence and, as their voices were increasingly heard, groups from around the world joined, transforming ECPAT into a global network dedicated to ending all manifestations of commercial child sexual exploitation.Read MoreClose
Today the ECPAT network includes 80 organisations in 74 countries – reflecting both the unfortunate breadth of the problem and the robust international response. Since 1990, many countries have passed legislation to increase child protection and a wide array of international, regional and local entities – both public and private – have emerged to join or partner with the ECPAT network. ECPAT has led global campaigns, co-organised three World Congresses against the sexual exploitation of children and been recognised on an international scale. Most importantly, ECPAT has actively promoted participation of children and youth, particularly child survivors and those most at risk, through their involvement in research, advocacy and innovative child participation programmes.
More than two decades after its humble beginnings, despite facing increasingly widespread and complex challenges, ECPAT is still committed to combating modern slavery.

TRACK
Over 90% of children adopted in Korea come from unmarried mothers. In 2011, Truth and Reconciliation for the Adoption Community of Korea (TRACK) launched the annual Single Moms' Day Conference as a response to the discrimination against unwed mothers and their children and to challenge the Korean Government's Adoption Day, which violated children's rights by prioritising adoption over support for single parent families. Read MoreClose
Each year, this event has brought together scholars, professionals, and experts to explore issues facing single mothers (particularly unmarried mothers) and their children. Some of the participants have included ambassadors and delegates from various foreign governments and the European Parliament and two former chairpersons of Committee on the Rights of the Child, Mr. Jean Zermatten and Ms. Yanghee Lee. This conference has usually been accompanied by different public activities, including a celebration party, a human library meeting where adoptees, birth parents, and unmarried mothers told their personal stories, and different public performances.
The public and political reactions have been largely positive with greater attention placed on children and family issues. It has also served to show that single parent households are families too and deserve protection and support from the Korean Government.
As one of TRACK's goals was to promote support for unmarried mothers among Korean civil society, we are pleased to announce that with the closing of the 4
th
 Single Moms' Day (2014), we have handed over the leadership to the Korean organisations that supported unmarried mothers and single parent families.
Single Moms Day Programme
2012: 
http://www.adoptionjustice.com/2012-single-moms-day-booklet/
2011: 
http://www.adoptionjustice.com/2011-single-moms-day-booklets-for-download/
Advancing children's rights through the UPR
The Permanent Mission of Slovenia, together with UNICEF, Child Rights Connect, Child Rights Information Network (CRIN), Plan International, Save the Children and World Vision cordially invite you to save the date, Monday 5 May 2014, for a panel discussion on "ADVANCING CHILDREN'S RIGHTS THROUGH THE UNIVERSAL PERIODIC REVIEW: ACHIEVEMENTS, CHALLENGES AND LESSONS LEARNED" Read MoreClose
On the year of the 25th anniversary of the UN Convention on the Rights of the Child, it is an opportune time for the international community to take stock of the efforts to mainstream children's rights in the UPR system, with a particular emphasis on the opportunities and challenges regarding the implementation of the recommendations at the national level and on the tangible outcomes for children that have resulted from engaging in the UPR.
The success of the UPR largely depends on the quality of the UPR recommendations and on the capacity of the government and civil society to take ownership of the UPR process and work collectively towards their implementation. To make the UPR work for children, they must be at the forefront of monitoring and reporting efforts and considered key partners in all phases of the UPR process.
The event will take place at lunchtime in the Palais des Nations. More information and a formal invitation will follow.
Refreshments will be provided.

April 2014 News
Elizabeth Glaser Pediatric AIDS Foundation (EGPAF)
Parliamentarians urged to help increase children's access to HIV treatment. On 17 March 2014, the Elizabeth Glaser Pediatric AIDS Foundation (EGPAF) stressed the importance of ensuring children's access to HIV treatment at a gathering of parliamentarians in Geneva.  Read MoreClose
At the event, which took place during the Inter-Parliamentary Union's Annual Assembly, the organization launched a short
video
that highlights the problems facing children living with HIV, along with a
brief
for parliamentarians on how they can take action on the issue within their own countries.
More than 500 children die every day due to HIV infection. Without treatment, 80 percent die before their fifth birthday. Despite this, children are accessing HIV treatment at only about half the rate of adults – 34 percent of children needing HIV medicines receive them, while 64 percent of adults do.
Philip O'Brien, Executive Vice-President of EGPAF, said, "The need to scale up access to HIV treatment is not only clear – it is an emergency. And the role of parliamentarians in helping us to achieve this is critical. Without political support and action, we will not be able to achieve the gains that are so desperately needed to keep these children alive and help them to flourish."
Ms. Thabitha Khumalo, MP from Zimbabwe, spoke movingly to fellow parliamentarians of her own experiences in witnessing the toll that HIV is taking on children in Africa, and the difficulties in ensuring that they have access to medicines that are child-friendly and palatable. "We risk sentencing a generation of children to death if we do not do more to ensure their right to the medications that will help keep them alive and healthy," she said. "These children are the same ones who could one day be sitting in our seats in parliament – but only if we give them a chance."
Parliamentarians expressed appreciation for having this issue brought to their attention, and pledged to follow up upon their return home. Some said that they were not aware of the disparity in access to treatment by children versus adults, and expressed dismay. However, as one parliamentarian said, "I am taking this as a challenge to go back home and sit with the AIDS committee in my parliament to see what we can do to take better care of our children living with HIV."
Eurochild
Eurochild Annual Conference to focus on better public spending for children. The European Commission Recommendation 'Investing in Children: Breaking the Cycle of Disadvantage' sends a clear message that, even in times of budget consolidation, governments must invest in services and policies that support children, enabling them to realise their full potential.Read MoreClose
This year marks the
25th Anniversary
of the UN Convention on the Rights of the Child and, in spite of overall achievements regarding children's rights, many of them still have their rights violated on a daily basis.
Eurochild's Annual Conference,
"Better Public Spending for Better Outcomes for Children & Families"
, will take place in
Bucharest from 26 to 28 November
and will bring together key stakeholders to discuss how to achieve better public spending putting the child's interest at the centre. Participants will include members from different European governments, civil society, business and private sector representatives, and philanthropic and inter-governmental organisations.
The conference will have a number of
cross-cutting themes
: social return on investment, the relationship between the public and private sector, transparency and accountability of public spending, and evaluation methodologies.
In addition to gaining a better understanding of
how to monitor the effectiveness and impact
of particular interventions to support children and families, the conference will also address questions around
best use of the resources available
, taking a more global picture of public expenditure.
Given the particular expertise and interest of Eurochild members, public expenditure will be explored in more detail in three thematic areas: early childhood education and care, family and parenting support, and children at risk or in care.
A
background paper
will be prepared to set the framework for the discussions during the conference, highlighting cross-cutting issues and thematic context.
First Nations Child and Family Caring Society
The Dreams of First Nations Young People Matter Too. First Nations children want the same opportunities to grow up safely at home, be healthy, achieve their dreams, celebrate their languages and culture and be proud of who they are. We can all stand with First Nations children so they have the same chances as all other children in Canada. Read MoreClose
Our Dreams Matter Too (ODMT) is a walk and letter writing event on June 11 supporting culturally based equity for First Nations children. People and organizations across Canada have participated in ODMT by planning walks across the country to deliver letters to mailboxes in their communities. Register your walk and learn more at:
http://www.fncaringsociety.com/our-dreams-matter-too
.
In 2007, the First Nations Child and Family Caring Society and the Assembly of First Nations filed a human rights complaint against the Government of Canada (Aboriginal Affairs and Northern Development Canada). The complaint alleges that AANDC provides less child welfare funding on reserves resulting in an overrepresentation of First Nations children in the care of child welfare. The case is being heard at the Canadian Human Rights Tribunal and continues with dates in May and closing arguments July 7-11, 2014. Be a witness to this historic case and watch in person or watch it on APTN (
http://aptn.ca/news/tag/kids-in-care/
). For more information on the case, visit
www.fnwitness.ca
or contact the Caring Society at
info@fncaringsociety.com
.
IFCO
2014 European Conference has been re-opened. Waterford City in Ireland has become an alternative location for the conference, following cancellation of the event in Kyiv, Ukraine – previously announced as IFCO 2014 hosts – due to current political and social crisis there. Read MoreClose
  Hosted in Waterford Institute of Technology, the conference will take place on 26-29 August 2014.The theme of "Ensuring the Rights of the Child, and Family-based Services" chosen for the IFCO 2014 European Conference invites workshop ideas, plenary topics and attendees who envision foster care, and indeed, all alternative care as the holistic system that IFCO promotes. In the IFCO tradition we run an 
adult
 and 
youth programmes
 in parallel with opportunities for cross-over interactions. Conference organisers would like to invite all stakeholders including foster parents, foster families, children in foster care, care leavers, birth families, social workers, professionals, academics, policy makers and all who are invested in family-based care, to submit papers for 30- and 45-minutes plenary presentations and 90-minute workshop sessions for both the adult and the youth programmes. Papers must be written in English as the working conference language. On the basis of the papers received, a stringent review will be undertaken by the Organising Committee to select papers for the conference.  The selection criteria include adequacy of the information allowing a sound review, relevance to the themes/topics and depth of information content.

Important dates
· Outline paper submission closes: April 30, 2014
· Authors notified of acceptance: May 12, 2014
· Provisional Programme: May 20, 2014
INGO "Ponimanie"
"Safe Belarus and CIS Region for Children" Conference Takes Place in Minsk. Professionals from Belarus and abroad will meet April 23-24 in Minsk in the framework of the Fifth International Conference "Safe Belarus and CIS Region for Children", organized by the INGO "Ponimanie".  Read MoreClose
The key advantage of this conference is its 
content-driven character
 –   a lot of practice-oriented events are going to take place. Three sections of the Training Institute will work on the first day of the Conference, April 23:
Managing the work of Child Helplines: CIS Region and international experience
Child-friendly investigation and interviews: CIS Region and international experience
Methods of treatment and rehabilitation of children suffered from child abuse and neglect: CIS Region and international experience
The organizers of the Conference will particularly focus on the United Child Protection Model that is developing in Belarus. Only in 2013 the United Model provided direct service delivery in 389 cases of child sexual abuse, and over 2,200 cases of criminal physical abuse towards children.
The United Model of Child Protection is a comprehensive technological chain aiming to help abused children and their families. It consists of Child Helpline Belarus 8-801-100-1611 – the entering point of information into the system, child-friendly interviewing rooms across all 7 regions of Belarus, Child Protection Medical Center (Barnahus of A-type), Center for Missing and exploited children.

Please go to the 
website
 to find more information on the Conference.
International Catholic Child Bureau (ICCB / BICE)
BICE recently released two publications. Read MoreClose
BICE attended the following
conferences
on Resilience and the Rights of the Child. 
Read More
–          Workshop organised by Boris Cyrulnik on "Resilience and Spirituality", Paris (France).
–          Conference organised by ADDIMA in Zaragoza on « Resilience and Humour. », Zaragoza (Spain).
–          Workshop organised by ADDIMA in Zaragoza on "Humour. Sense and Sensitivity", Zaragoza (Spain).

The
events
below have been organised by BICE. 
Read More
Moreover, BICE begins its Child Sexual Program (2014-2017)
in Africa, Asia, Europe and Community of Independent States and Latin America.
Internet Watch Foundation
The fight against online child sexual abuse content – IWF 2013 Annual Report — The Internet Watch Foundation (IWF) is the UK hotline for reporting online child sexual abuse content. On 7 April 2014, the IWF released its 2013 Annual Report which shows an increase of 31% of reports processed by the hotline in 2013 compared to 2012.  Read MoreClose
 In total, the IWF processed 
51,186
reports in 2013 of which 
13,343
 were assessed as depicting child sexual abuse, including rape and sexual torture. Most of the images or videos processed by the IWF 
(81%
) included victims who appeared under the age of 10 and a number of reports depicted victims aged 2 or under 
(3%)
. Most of the content encountered by the IWF was hosted in North America (
54%
), followed by Europe, including Russia (
43%
). Less than 
1%
 of the content reported to the IWF was actually hosted in the UK.
The IWF works with partners around the globe to improve the fight against online child sexual abuse content. Among others, the IWF is part of the Steering Group of the Commonwealth Cybercrime Initiative; the ITU's Child Online Protection Initiative; the IGF's Dynamic Coalition on Child Online Protection; the European Financial Coalition; and Child Rights Connect. In addition, the IWF developed a Countrywide Assessment Template for combatting online child sexual abuse content which was adopted by the ITU, as well as a practical back-office solution (
OCSARP – Online Child Sexual Abuse Reporting Portal
) to help countries without a hotline.
For more information about the IWF or to read the full 2013 Annual Report, please visit our
website
Plan International

Plan has been gearing up for the first ever Human Rights Council panel discussion on child, early and forced marriage at the June session of the Council in Geneva. On 3 March, during the 25th session of the Human Rights Council, the UN Population Fund (UNFPA) in collaboration with Plan and others co-organised a high-level panel debate on child marriage, set against the backdrop of the powerful Too Young to Wed exhibition. Read MoreClose

  On a panel debate alongside heads of UN agencies and ministers, Plan's Chair Ellen Løj shared Plan's experience of working with communities to eradicate this practice.
Attended by over 250 people, the debate helped raise the issue of child marriage at the UN and has hopefully sparked an increased interest for the June panel discussion.


 
On Thursday 10th of April, Plan together with the Youth Advocacy Group launched a new advocacy toolkit for youth advocates.  The Youth Advocacy Group is part of the UN Secretary-General's Global Initiative on Education, working towards making education accessible to all children. Read MoreClose

The toolkit empowers young people to advocate for their own rights and will serve as a guide to get involved with advocacy for education and other initiatives.
We encourage you to use this toolkit and disseminate it to ensure that more young people have the tools necessary to take an active role in shaping their future.


The toolkit is available here.

Ratify OP3 CRC Coalition
A panel featuring representatives from States and the Ratify OP3 CRC Coalition was held at the UN headquarters in New York to celebrate this key moment for access to justice by children. Read MoreClose
Panellists discussed the importance of the Optional Protocol as well as call for broader ratification.
Details can be found here
.
The panel was broadcasted
live
 on Monday 14 April from 1.15 pm to 2.30 pm New York time (GMT-5).
A new look for the Ratify OP3 CRC International Coalition website. The new
site
was launched on 14 April.
Terre des Hommes International Federation
WORLD CONGRESS ON JUVENILE JUSTICE Switzerland and the Terre des hommes Foundation are pleased to announce the joint organisation of the WORLD CONGRESS ON JUVENILE JUSTICE at the International Conference Center of Geneva (26-30  January 2015). Read MoreClose
Despite progress achieved over the last decades, the improvement of the juvenile justice system remains a critical element for the respect of the best interest of children in conflict with the law as well as the interest of the society as a whole. Despite the vast diversity of judicial systems, similar challenges arise such as detention conditions for children in conflict with the law, the respect of their rights, the efficiency of non-custodial measures, the advantages of restorative juvenile justice, the reform of the juridical system and the prevention of youth offending.
The Congress aims at promoting the implementation of these norms and standards through the exchange of experiences, innovations and best practices.
– Governments are invited to present achievements in juvenile justice (legislative, pilot project, innovations, lessons learned, etc.), to share challenges, to discuss implementation of measures as well as articulate needs and/or proposals for regional and international cooperation.
– Juvenile justice professionals (judges, magistrates, prosecutors, academics, penitentiary administration, social services, police, lawyers, etc.) are invited to expose their lessons learnt and their proposals;
– International organisations, United Nations Agencies, non-governmental organisations and other stakeholders in the field of Juvenile justice, in order to strengthen their coordination capacities.
CONTACTS:
Permanent Mission of Switzerland to the UN in Geneva : mission-geneve-oi@eda.admin.ch
Terre des hommes Foundation : JJ2015@tdh.ch
World Congress website in
English
War Child Holland
War Child Holland: Syria Child Rights Situation Analysis, January 2014. In 2013, War Child Holland conducted a participatory Child Rights Situation Analysis (CRSA) with 400 boys and girls living in different communities in Syria to find out about matters of greatest concern to them. Read MoreClose
 War Child Holland regularly conducts a CRSA in the contexts where it works to ensure that the views of children are taken into account in the design of programme interventions and to raise awareness about the situation for children, with humanitarian agencies, donors and other key international stakeholders.
"Nowhere is safe. Even the places where we feel happy are not safe." Child, Rural Damascus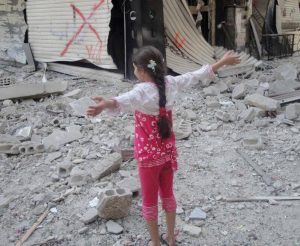 The most important issues that children in Syria identified related to violations of their rights to protection, education, healthcare, nutrition and play. Fear was commonly reported by children as a factor restricting the fulfilment of their rights and their ability to enjoy their childhood. The children also voiced their perception of widespread discrimination in access to resources and services in Syria.
The
full report
recommends that programmes in Syria better address the needs of children by ensuring the creation of safe places for them to gather and to access support services on a fair and equal basis. It also
recommends that partnerships and cooperation with existing community based groups and structures is prioritized, and that children from the host and displaced community, as well as Syrian and refugee children are integrated and involved.
March 2014 News
Making Children's Access to Justice a Reality
The Permanent missions of Albania, Bolivia, Costa Rica, Germany, Montenegro, Portugal, Slovakia, Spain and Thailand, together with Ratify OP3CRC-International Coalition for the OPCRC on a Communications procedure organised a side event on "Making Children's Access to Justice a Reality: the Third Optional Protocol to the UN CRC".
The event took place on Thursday 13 March at 1pm, Room XXI of Palais des Nations.

The Extent of the Child Protection Emergency in Syria
A side event from Child Rights Connect members Defence for Children International and War Child Holland was organised on the 11 March at Palais de Nations, 2:30-4:30pm

December 2013 News
First Global Forum on Statelessness
To be held in September 2014, with a focus on stateless children
Read MoreClose
The three-day event is co-hosted by UN High Commissioner for Refugees (UNHCR), the agency mandated by the General Assembly to help states to address statelessness, and the Statelessness Programme of Tilburg University.
Submission deadline for presenters was 1 December 2013. Presentations relating to Stateless children, a subtheme, were especially welcome. The content could focus on the implementation of Article 7 of the CRC (that every child has the right to be registered immediately after birth and the right to a nationality) or how to protect stateless children from abuse exploitation and violations of other rights, as they are especially vulnerable.
More details can be found here.
International Play Association
19th IPA World Conference to be held in Turkey in May 2014
Read MoreClose
The 19th International Play Association Triennial World Conference will be held between 20-23 May 2014 with the theme of "Access to Play", hosted by Active Living Association. The aim of the conference is to put the child's right to play, which is already laid down by law, on the public agenda in Turkey, to make this issue considered as a right and to clear the way for new decision making about the child's right to play and academic studies.
More Information and Conference Registration can be found here.