Children experience specific and additional challenges and violations when acting as human rights defenders because of their status in society
"Children are already human rights defenders, with the same rights as adults. We must recognize their vital role and the obligation of States to protect their rights", emphasized the Chairperson of the UN Committee on the Rights of the Child (CRC Committee) during one of our events in 2022.
We are witnessing an unprecedented global movement of children taking action to address humanity's most pressing challenges. These child human rights defenders (CHRDs) are advocating for human rights and social justice on various issues, spanning from the environment to racial discrimination, violence, alternative care, and sexual education. They engage in impactful campaigns, protests, and awareness-raising activities both online and offline, making a difference at local and global levels.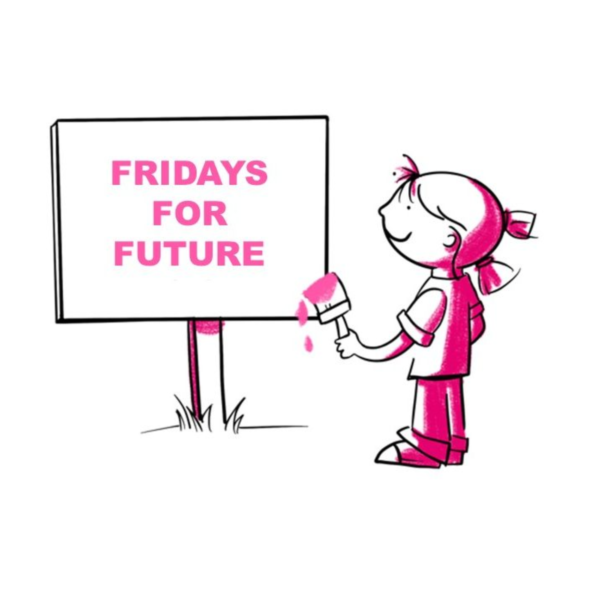 In Cameroon, one of our child advisors mobilised her girl-led organisation to demand accountability for recent massacres. Their advocacy led to the establishment of a Commission of Inquiry by the government, whose findings confirmed the army's responsibility for human rights violations, as uncovered by our child advisor's investigation. In Lebanon, another child advisor launched an educational programme focused on child civic engagement. Through a self-developed booklet, she empowers children in schools across the country to raise awareness among their peers about the importance of civic engagement and its positive impact on their well-being and wider communities. These inspiring examples provide yet another evidence of the leadership of children in shaping a better world. Their voices are powerful catalysts for change, and it is crucial for us to support and protect their rights as they contribute to a more just and inclusive society.
Child human rights defenders (CHRDs) face critical obstacles in promoting and protecting human rights, stemming from the under-recognition of their existence and a lack of understanding of their unique role, status, and rights. These challenges are documented in our "Rights of CHRDs: Implementation Guide".
"Adultism", or the belief that adults are superior to children, hinders the recognition of CHRDs and their unique role, with real consequences on their ability to act, enjoyment of their rights and the impact of their action. They encounter safety risks, threats, and intimidation. Their civil and political rights are misunderstood and neglected, even by civil society. Limited guidance on how to advance their rights, and coordination among key State and non-State actors exacerbate these challenges, leaving them without adequate support and protection and limited opportunities for empowerment. Often, CHRDs remain unaware of the mechanisms at the national, regional and international level that can help them, and many of these mechanisms are not accessible by children or child friendly.
Our long-term, multilevel and multi-stakeholder initiative to advance the rights of CHRDs
Our historical engagement: putting the issue on the international agenda
In 2017, we launched a groundbreaking global programme focused on the rights of CHRDs. It has become a core part of our organisation's mission, spanning across all areas of our work and with the involvement of our Children's Advisory Team, a group of empowered CHRDs from around the world.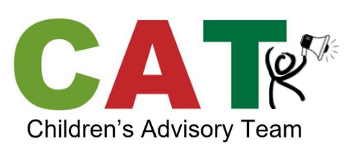 Our efforts gained international recognition in 2018 when we conceptualized and led the Day of General Discussion (DGD) of the UN Committee on the Rights of the Child (CRC Committee) focused on CHRDs. This historic event put CHRDs in the spotlight for the first time, igniting global attention. To address the lack of guidance in this field, in 2020 we embarked on an extensive consultative process involving children, civil society organisations, experts, the CRC Committee, and the UN Special Rapporteur on the situation of human rights defenders to design comprehensive guidance, "The Rights of CHRDs: Implementation Guide." This guide increases awareness and legal understanding of CHRDs' rights and the responsibilities to uphold and protect them.
In 2021, we took further steps to empower CHRDs by releasing a child-friendly version of the guide and launching a dedicated website offering various resources, including online modules for CHRDs defending the environment and those operating in the digital environment. Moreover, we initiated a pilot project with our local member in Moldova, the Centrul de Informare şi Documentare privind Drepturile Copilului (Child Rights Information Centre – CRIC), in 2021. This project empowered CHRDs, children's rights defenders, and the Children's Ombudsperson on how to advance the rights of CHRDs. It prioritized the issue at the national level, and mobilized international support, with the potential to influence the first ever national law on human rights defenders developed with children's views and integrating the rights of CHRDs.
Breakthroughs from multilevel action in 2022
In 2022, we boosted our initiative to advance the rights of CHRDs at all levels:
Empowering civil society reporting: We made it a priority to support CHRDs in the reporting cycle of the CRC Committee. Through capacity-building initiatives in countries like Asia-Pacific, Colombia, Moldova, Morocco, and West Africa, we assisted civil society organisations (CSOs) and children in making recommendations on CHRDs in their country reports to the Committee. We also actively advocated for better integration of CHRDs' rights and expanded child participation within the CRC Committee's work though session opening statements in coordination with our dedicated Working Group.
Collaboration with the Special Rapporteur: We intensified our collaboration with the Special Rapporteur on the situation of human rights defenders. Through a meeting facilitated by CRCnt and our member CRIC, CHRDs from Moldova had the opportunity to directly share their experiences with the Special Rapporteur, providing valuable insights for her work. Additionally, our Children's Advisory Team submitted a report in November 2022 which informed the Special Rapporteur's report to the Human Rights Council, focused on changing the narrative and highlighting the positive impact of CHRDs.
Advocating for targeted UPR recommendations: Recognizing the lack of explicit UPR recommendations mentioning CHRDs, we developed a thematic brief for UN diplomats and organised a joint briefing with UPR-Info. The Special Rapporteur called for increased efforts to ensure that cases related to CHRDs are submitted to relevant mechanisms, leading to the generation of specific recommendations.
Influencing international actors: We also influenced other key international actors to consider and act on the rights of CHRDs. As a result of our participation at a Council of Europe conference focused on child rights, the Council of Europe decided to launch its first-ever baseline study on CHRDs, under our leadership, to assess Member States' progress and provide guidance for the future on the implementation of the rights of CHRDs.
Capacity-building in Moldova and Bulgaria: In 2022, we scaled up the implementation of our CHRDs Guide through two pilot national projects, in Moldova and Bulgaria respectively. In Moldova, we pursued our collaboration with CRIC to build momentum for and empower a core group of CHRDs and the Children's Ombudsperson to ensure that CHRDs' rights and perspectives are included in the forthcoming law on the protection of human rights defenders, potentially serving as a model for other countries. We also initiated a pilot project in Bulgaria in partnership with the National Network for Children and the New Bulgarian University – Know How Centre for Alternative Care for Children. This project focuses on empowering CHRDs, especially those with experience in the care system, to shape and take forward human rights activities. Through a series of capacity-building workshops in Sofia, we provided a platform for children to discuss the challenges they face in their activism and fostered their interest in advocating for human rights.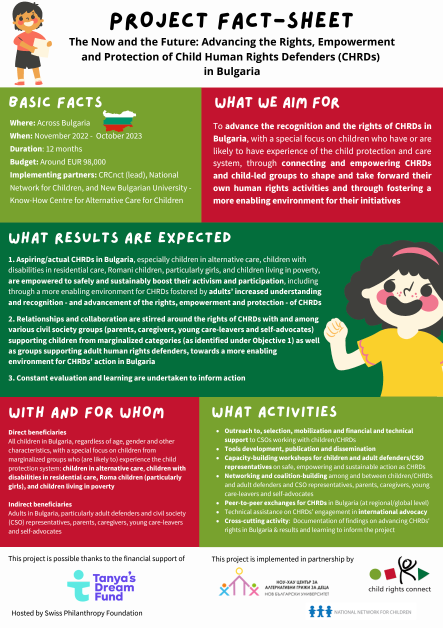 What difference did this make?
Our engagement has brought tangible results, with potential for sustained impact:
Children and non-state actors empowered: Through our capacity-building workshops based on our Guide, we have reached over 500 children, children's rights defenders, academics, students, non-State actors, and UN representatives. Post-workshop assessments have shown a significant increase in understanding among both children and adults regarding the distinct status, role, and rights of CHRDs. In Bulgaria, for example, 80% of trained children reported a greater understanding of CHRDs and 90% expressed increased awareness of how they can act as CHRDs in their country. Similarly, 80% of CSO representatives in Bulgaria reported improved understanding of CHRDs, with 60% stating that discussions significantly enhanced their ability to engage with and support CHRDs.
International standards further advanced: The CRC Committee adopted a groundbreaking recommendation on CHRDs for the first time in September 2022. The recommendation, included in the Concluding Observations of Vietnam, emphasized the link between CHRDs and children's civil and political rights, an often-overlooked area. This significant milestone will raise global awareness and acceptance of the rights of CHRDs. Furthermore, the Committee's List of Issues to Jordan also highlighted the importance of ensuring CHRDs' rights to freedom of expression, association, and peaceful assembly. These explicit connections made by the Committee will put children's civil and political rights on the agenda of both Vietnam and Jordan in their future reports to the Committee.
CHRDs' rights prioritized in UPR and by the Special Rapporteur: Our UPR briefing had an immediate impact, leading to the first-ever UPR recommendations explicitly mentioning CHRDs (from Ireland and Luxembourg) in November 2022. The coordination of messages between the Special Rapporteur, the CRC Committee, CHRDs from Moldova, and Amnesty International Thailand, facilitated through our briefing, played a crucial role in convincing States to act. Since the briefing, the Special Rapporteur has dedicated more attention to CHRDs, including a hearing with CHRDs from Thailand to address the situation of children facing criminal charges for their involvement in protests. Her report to the Human Rights Council on positive change achieved by human rights defenders includes milestone recommendations on and emblematic examples of CHRDs' work.
Enhanced collaboration among key actors: Our work has fostered collaboration with mainstream human rights NGOs, dedicated to the protection of adult human rights defenders. We have built bridges between the child rights movement and international NGOs such as Amnesty International, the International Service for Human Rights, and the International Commission of Jurists, both at the country level (especially in Moldova and Bulgaria) and the global level, which will ultimately result in strengthened support to CHRDs.
Increased support from the donor community: While the donor community has been generally slow in integrating children into funding and programs for human rights defenders, we have managed to convince some donors to increasingly invest in the promotion of CHRDs' rights. Although this remains limited, these commitments show a growing consciousness and positive inclination among donors to allocate resources specifically for CHRDs within their broader funding programmes targeting human rights defenders.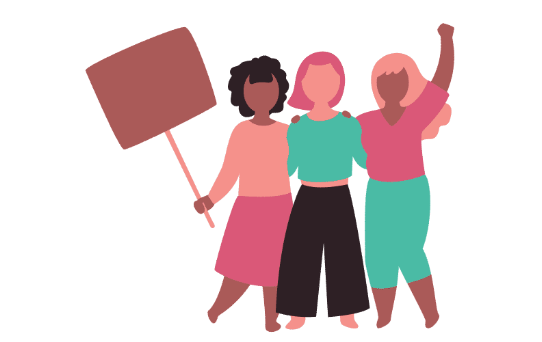 What have we learned?
One persistent challenge we face is the resistance and reluctance to use the term "CHRDs" (child human rights defenders), which is the only terminology that provides legal protections for children advocating for human rights as outlined in the UN Declaration on Human Rights Defenders. Even among CSOs, concerns about protection and paternalistic views continue to influence interactions with CHRDs, especially in the current context of pushback against human rights. Changing perceptions and shifting the legal and policy frameworks and practices surrounding CHRDs requires working with children and prioritizing their active participation. This remains a constant focus, including within our upcoming projects commemorating the 25th anniversary of the UN Declaration on Human Rights Defenders and our own 40th anniversary in 2023.
The achievements in 2022 demonstrate the crucial role of the Special Rapporteur in encouraging States to take action. Sustaining and strengthening the collaboration between the CRC Committee and the Special Rapporteur is essential. Involving all key CSOs, including mainstream human rights NGOs beyond the realm of children's rights, fosters thought-provoking discussions that expand collective knowledge and understanding of the context and rights of CHRDs. It helps build broad support for the CHRDs agenda. Empowering CHRDs throughout all processes is vital, not only as their right but also because it enriches the interpretation of the key challenges they face and their priorities. Establishing allies at the international level draws attention and support for CHRD advocacy at the national level, and strategically linking national and international advocacy proves to be an effective approach.